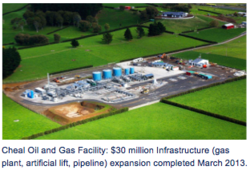 Vancouver, B.C. (PRWEB) July 02, 2013
TAG Oil Ltd. (TSX: TAO) and (OTCQX: TAOIF), reports the Company has filed its consolidated, audited financial statements, management discussion and analysis and annual information form with the Canadian Securities Administrators for the Company's March 31, 2013 fiscal year-end. Copies of these documents can be obtained electronically at http://www.sedar.com, or for additional information please visit TAG Oil's website at http://www.tagoil.com/.
Conference Call
TAG Oil also hosted a discussion of its 2014 forward program, as well as fourth quarter 2013 results on Friday June 28, 2013. Access a transcript or audio file of that call here:

http://www.tagoil.com/TAG-Oil-Earnings-Call-F4Q13.asp.
Interested parties may also access a replay of the call until 11:59 p.m. Friday, July 5, 2013 using the information below:
Toll-Free Dial-in #